The cup body in the shape of a retro-style wooden barrel is engraved with Viking runes, and the cup handle is like a winding snake. It is a very practical and exquisite beer mug.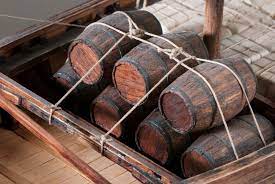 Viking's wooden barrel

Shipping Within 24 Hours
Material

Resins+Stainless Steel

Craftsmanship

Lmitate Antiquity

Size

15cm(5.9")*10cm(3.9")*14.2cm(5.59")

Capacity

550ml(18.59 Ounces)

Weight

700 Grams

Package

Cup




Gift Box




Gift Card
The surface of our products is mainly made of resin, and there is a color gap in each batch of antique products, which is not a matter of color, because antique is the effect of random rubbing, of course, each batch is not exactly the same as that of spray painting. the antique effect of skulls is mainly based on the effect unearthed, because there will be soil corrosion after the skull is unearthed, and the surface is not smooth, which is not a quality problem, Is to do this effect.