The 316 stainless steel handmade Viking Nordic Aegis rune pendant, oxidized silver with a simple and retro craftsmanship makes the pendant look like hand-pounded silver cakes and rock carvings.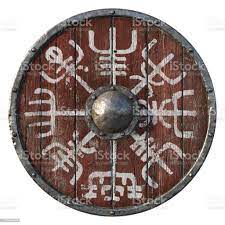 viking warrior shield
The Norwegian word Aegishjalmur (Ægishjálmr) means awe at the helm (helm of awe) and is one of the most mysterious and powerful symbols in Norse mythology, clearly described in the Icelandic Magic Book (Galdrabók) of the 16th and 17th centuries. It is the most powerful symbol in Norse mythology, and this symbol represents protection. Just looking at this graphic is enough to inspire awe and fear within, as if a spiky trident-shaped weapon is fired from a central point against the hostile energies on all sides. Many Viking warriors had it painted on their foreheads, between their eyes, or between their arms, and tattooed with the symbol before going into battle, believing it would protect them from invincibility and create fear in the hearts of their enemies.

Shipping Within 24 Hours
Material

Stainless Steel

Craftsmanship

Polishing

Size

Height: 4.5cm(1.77")

Width: 3.88cm(1.52")

Weight

Pendant: 18 Grams

Matching Chains

3mm Leather Braided Chain

2.5mm Rolo Box Chain

Matching Chain Length

55cm(21.65") 60cm(23.62")

Package List

Pendant*1




Gift Box*1




Gift Card*1




Velvet Bag*1




Matching Chain*1